In 1766, Franklin was in London, testifying before the House of Commons for the repeal of the Stamp Act. His public reputation, however, rested on his scientific achievements. His Experiments and Observations on Electricity (1751) had been often reprinted, and he had received numerous honorary degrees and awards for his important work. While in London, Franklin's portrait was commissioned by his friend, Edinburgh wine merchant, Robert Alexander, from Alexander's protégé Scottish artist, David Martin. Franklin obviously liked the portrait, which was exhibited to London audiences in the spring of 1767, for he commissioned this slightly modified replica and shipped it home to Philadelphia. Franklin wears a blue suit with elaborate gold braid and buttons, and a wig of the type called "physical," usually worn by physicians and other men of learning. Martin has portrayed Franklin as a studious, and prosperous, man of science, seated amongst his books and papers, overlooked by a bust of Isaac Newton.
The portrait is currently owned by the Pennsylvania Academy of Fine Arts. Above information comes from the web site of The National Portrait Gallery of the Smithsonian.
In 1825 Edward Hicks, the famous Newtown primitive artist, was commissioned to paint a sign for The Newtown Library Company. He had seen the "Thumb Portrait" of Franklin and incorporated it into the sign. He charged $1.00 for the work.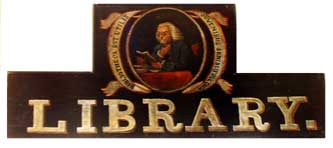 The inscription reads:
BIBLIOTHECA EST UTILIS
JUVENIBUS SENIBUS JUCUNDA.
Loosely translated, it says, "A library is useful for both young and old."