The Newtown Library Company was founded on August 9, 1760. Annual shareholders' meetings have been held ever since then on the last Saturday in October at either 1:00 or 3:00 pm. Incorporation was granted by a Special Act of the Pennsylvania Legislature, approved March 27,1789.

The collection of books was kept at the homes of the various librarians from 1760 until after the County seat was removed to Doylestown in 1813. At that time, the books were housed in the old Court House building until 1824 when the first library building was erected by the Company on land donated by Isaac Hicks. In 1883, a new larger building was constructed at Court St. and Centre Ave across from the Half Moon Tavern.

In 1912 the Company dedicated the present building. An expansion in 1979 provided additional stack rooms, a children's area, librarian work space and ramps for the handicapped. Two public reading rooms are maintained where anyone may freely enjoy the many resources of Newtown's unique educational institution.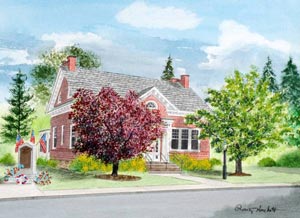 This watercolor was done by local artist, Craig Hackett.
His work can be seen at his studio at Carousel Village in Wrightstown